In this week's HydroLogic blog, Nichole Bohner with the City of Round Rock shares their lifeguard incentive program. Over and over, Aquatics pros struggle with keeping their teams motivated throughout each season.  While our teenage teams are often excited when everything is shiny and new at the beginning of the year, as time wears on and they settle into their positions, the struggle is real to keep them inspired and happy!
An incentive we've incorporated at the City of Round Rock for our seasonal lifeguards has been in utilizing Wooden Nickels. This is a program I partook in as a seasonal employee that made an impact on my motivation early in my recreation career.  Taking cues from that program, I was able to create a similar structure taking the wants and needs of the seasonal lifeguards I supervised into consideration.  The end result has been a program that has connected with the seasonal lifeguards in each of the cities I was able to bring it to.  It works for teams large and small and has tons of flexibility in the ways prizes can be set up and incorporated based on different needs and budgets.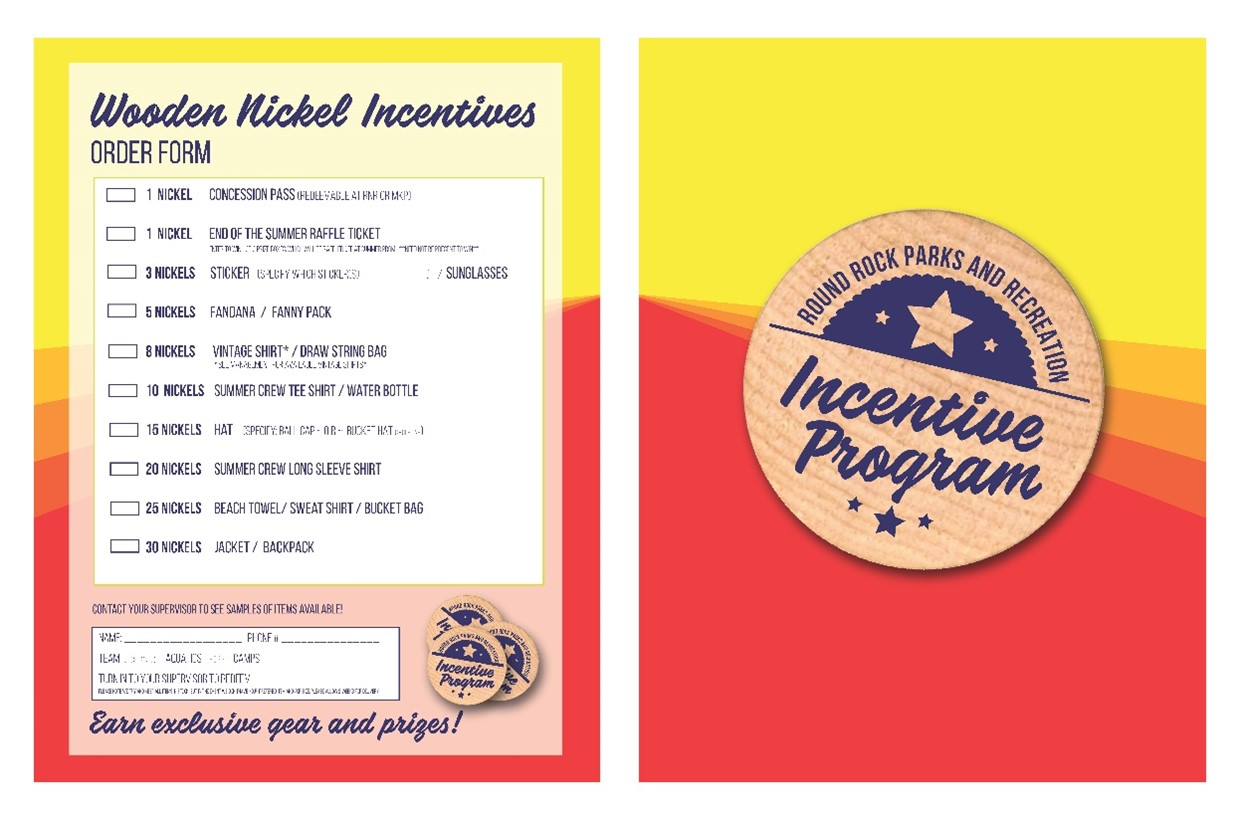 The Basics:
The Wooden Nickel incentive program is offered to all seasonal aquatic employees. Employees earn nickels based on multiple factors in regard to job performance, work ethic, and behavior.  Those Nickels can then be redeemed for prizes.  Prizes range from small, like a drink at the concession stand for one nickel -  to large, like an exclusive branded jacket for 30 nickels.
Earning Nickels:
Administrators can decide what behaviors would warrant receiving a wooden nickel in their lifeguard incentive program.
Some examples we use:
A customer compliment
Kudos provided by a fellow team member
Above and beyond work performance
Unprompted leading of a rescue during in-service
Going out of the way, above regular duties for a manager or teammate
Excellent performance during a rescue or first aid emergency
Nickels are distributed by all levels of Aquatics Management; Pool Managers to Division Administration to the Department Director have nickels at their discretion to distribute. As a control mechanism, Pool Managers' allotments are distributed weekly to provide a check-in on how many nickels are going out and what they are being given out for.
One item that has been key to the program's success has been the immediate nature of distribution to employees.  It gives the daily Pool Managers on the ground a tool to reward excellent behaviors on-the-spot, thusly promoting similar behaviors amongst their teammates.
Prizes:
The level of prizes can vary based on the available budget.  The budget-friendly items we offer are absolutely our most popular offerings: concessions items and stickers.  Our vintage T-shirt option has also been a budget-friendly and popular option. We change shirt colors/designs each season, so "vintage" shirts from seasons past are a coveted item by our newbies and help us purge backstock tees. A key to success with the prizes is their exclusivity to the program.  This has added legitimacy amongst the team, in that the only place they can get this exclusive branded gear is by earning it with Wooden Nickels.
Examples of prize offerings and "cost":
1 Nickel – Concession at any Pool Concessions stand (snack or drink)
3 Nickels – Sticker (multiple options to choose from)
5 Nickels – Fandana
8 Nickels – Vintage T-Shirt or Drawstring Bag
10 Nickels – Exclusive T-Shirt or Water Bottle
15 Nickels- Hat: Bucket Hat or Ball Cap
20 Nickels- Rash Guard or Long Sleeve T-Shirt
25 Nickels- Beach Towel or Sweatshirt
30 Nickels- Jacket or Backpack

Promotion:
We start promoting the lifeguard incentive program at our interviews and use our prize catalogs on the recruitment tables during high school visits and job fairs.  Hired employees continue to see the program showcased at orientation, in their seasonal manuals, and on posters located at their facilities. We also feature the program and its exclusive gear on our social media channels, where we connect with our current team and potential candidates.  (See more on our Instagram @roundrocklifeguards)
Response:
Employees are responsible for the Wooden Nickels distributed to them.  They are the employees to cash in, share, or trade as they please.  We often see them used amongst team members as a bartering chip, say to sweeten the pot when trying to get a shift covered - which shows us that the reward holds currency amongst the team.
Overall, the Wooden Nickels encourage good behavior and allow all team members the opportunity to work towards achieving incentives while encouraging competition that is positive. Putting the power in the employee's hands about how the Wooden Nickels gets cashed in has been touted by our team as something they cite as a favorite in the program as well.
Want to learn more?  Contact Nichole Bohner, Aquatics Manager for the City of Round Rock Parks and Recreation Department, at [email protected]
Resources: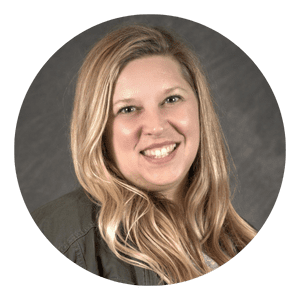 Nichole Bohner is Aquatics Division Manager for the Round Rock Parks and Recreation Department in Round Rock, Texas. Her teams have been awarded multi-year honors as Aquatics International's "Best of Aquatics," Texas Public Pool Council's Agency of the Year, and have been featured on Good Morning America.  She currently oversees operations of Rock'N River Water Park, specializing in recruitment and training, while also leading marketing efforts for the division's branding and social media programs. (Check out @roundrocklifeguards on Instagram!) She has served multiple waterpark, pool, and beachfront operations throughout the nation, with positions in Ohio, Nevada, California, and Texas.  Nichole holds a great passion for all things water and water safety-related and is a national speaker on leveraging marketing to recruit and an expert in building, training, and retaining lifeguard teams. She has previously presented for various organizations, including The National Recreation and Parks Association, the World Waterpark Association, the Association of Aquatic Professionals, the Texas Public Pool Council, the Ohio Parks and Recreation Association, the Missouri Recreation and Parks Association, the North Texas Aquatics Association, and the Bay Area Public Pool Operator Association.