When it comes to a Halloween celebration that your patrons will enjoy, you want to give the biggest "wow factor" while maintaining a high level of safety. Things that may seem fun, such as dry ice or red dye in your water, may seem like a great idea, but you may want to consider other ideas that do not hinder the view of the lifeguard team or dye the liner of the pool permanently. With that in mind, let's chat about some fun, inexpensive ideas that do not compromise safety and impress your customers.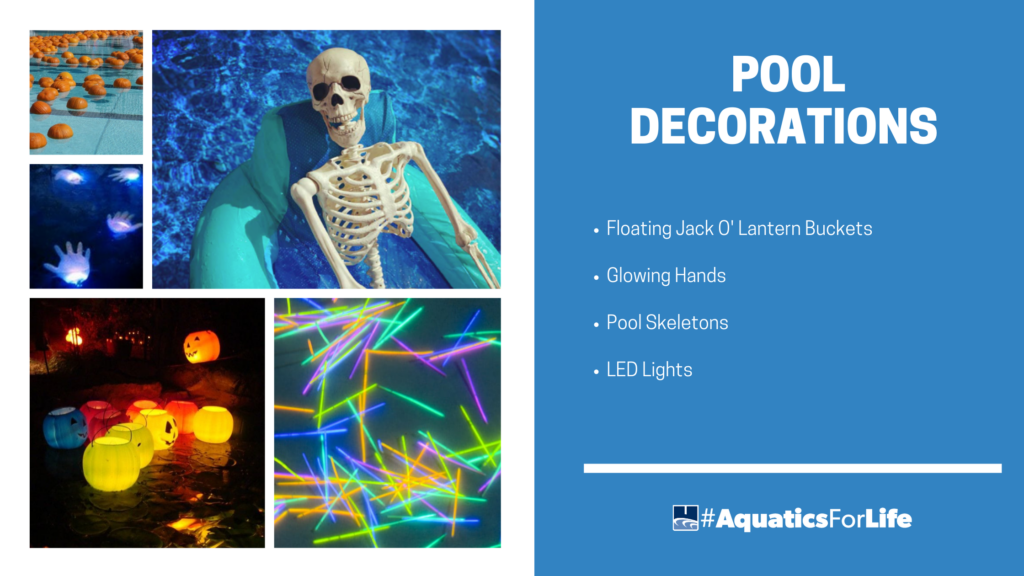 Let's talk decorations
Floating Jack 'O Lantern Buckets – This is inexpensive and easy to accomplish! All you need to do is place glow sticks inside the plastic Jack 'O Lantern buckets. The supplies can be found anywhere during September and October, think dollar stores or big-box chains. Also, the glow sticks still look pretty cool if they fall out of their buckets! Any extras could be used as dive sticks! (side note: If your pumpkins have those tiny holes in the bottom, just place a small piece of duct tape on the bottom to keep water out)
Glowing Hands – Another way to use glow sticks in the water! Get some latex gloves and put a glow stick in each of them. Inflate the gloves, tie them off, and set them afloat. At night it's really creepy to see glowing, floating hands in the swimming pool.
Pool Skeletons – Head over to your local discount store and find skeletons that can be posed around the pool. Try positioning the skeletons as if they were swimmers enjoying their time at the Halloween party! Skeletons can be found using a ladder to get out of the pool, floating on an innertube, using a kickboard, etc. Typically skeletons could be seen as scary, but these friendly bones are just enjoying the party!
LED Lights – If you are looking for a decoration for the water that can be reused for other parties, LED Lights may be for you. I have found lights that could be a larger investment, such as these that are inflatable or this option that is smaller but made of plastic. You could also do something like this that could be used in different ways. There are all sorts of options out there. These are just a few!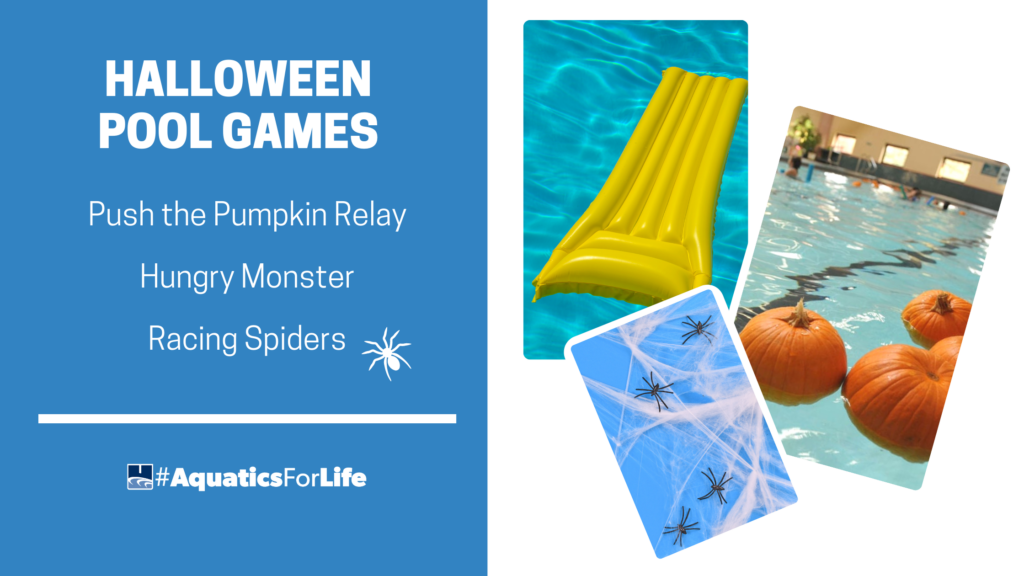 Now for the games!
Push the Pumpkin Relay - Do you remember the greased-up watermelon game? Why not try this with pumpkins! Just purchase large pumpkins and spray them with baby oil, have teams (or individuals) try to move the pumpkins to the other side of the pool. The greased-up pumpkin game may be too much for younger participants. You can always leave out the baby oil and make a relay race using the pumpkins. Each round is a different race – no hands, use your nose, etc. – the goal for each relay is to get the pumpkin from one end of the pool to the other.
Hungry Monster – Who doesn't love the children's game Hungry Hungry Hippos? This version is for the pool! The amount of monsters that play at a time is up to you!You will need one of each of the following for each monster: a plastic laundry basket, a full-size raft (kind of like this one), and any laminated monster face accessories to decorate the baskets to animate the game. You will also need a bunch of ball pit balls as the "marbles" for the monsters to "eat". This game is quite a bit more challenging than it looks.  You will need teams of two.  Each team will choose one person to lay on the raft and the other person to "guide" the raft.  Once the game begins, and the plastic balls are dumped into the pool, the person laying on the raft will try to gather as many plastic balls into the bucket as possible while his/her partner steers from their feet!
Racing Spiders – How about a game for your younger swimmers? To keep it simple, you need a package of plastic straws and a package of plastic spiders. Have the participants blow into the straw and race their spiders across the pool. This is super easy and inexpensive!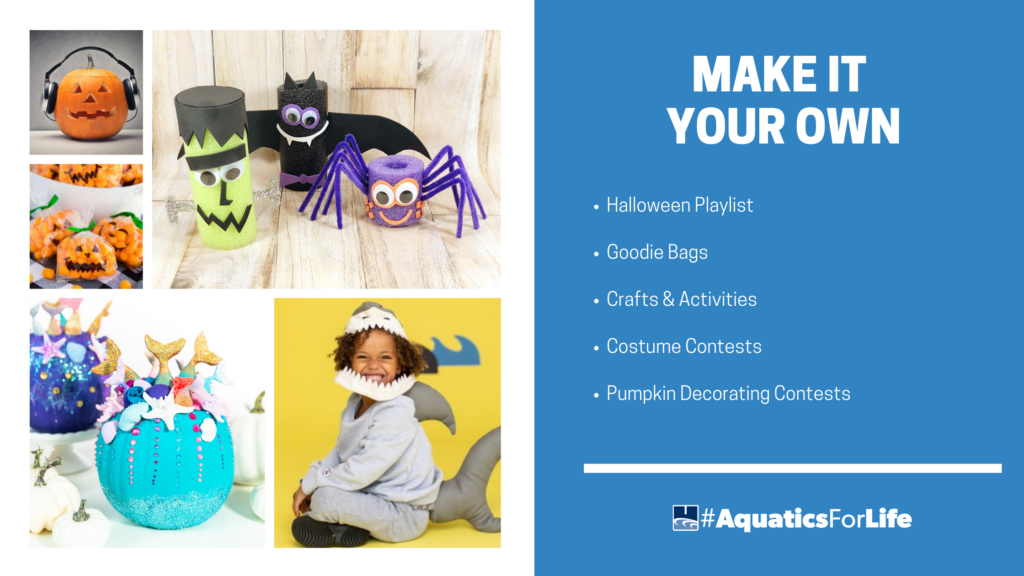 Now it is time for the music!
You could turn on the radio, but a Halloween playlist is way more fun! Here is an example from Spotify: Spotify – KIDS HALLOWEEN SONGS | BEST MIX OF KIDS HALLOWEEN COLLECTION
Looking for some fun Halloween Crafts outside of the pool?
Check out these fun pool noodle crafts, which are a great use of last season's pool noodles for team members to make as decorations or as a guest activity!
Putting together any holiday celebration should be kept fun and safe for all participants! Don't forget about the simple things, such as costume contests, goodie bags, window clings, or even belly flop contests! These are fun for any occasion! What other ideas do you have for a Halloween fun-filled party?