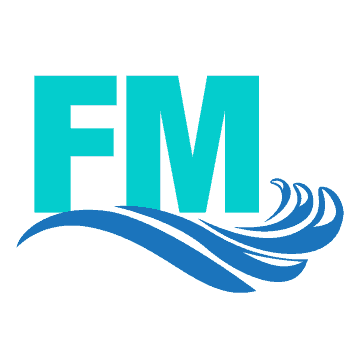 Facility Manager
Designed by Pool Professionals, for Pool Professionals
Take risk management to the next level with more transparency and better accountability.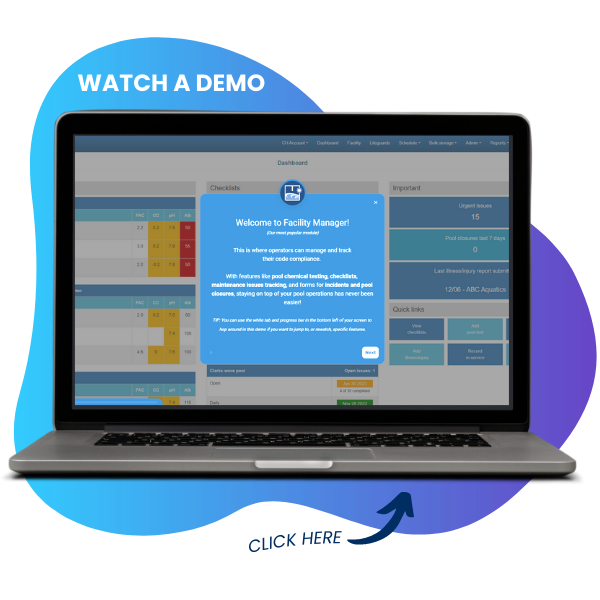 Facility Manager
Going completely paperless is easy with HydroApps, the first-ever product to receive full certification by the Council for the Model Aquatic Health Code (CMAHC). Whether you choose pre-populated forms or choose the option to customize, you have the flexibility to tailor and add pool test fields, checklists, and forms to your facility's specific documentation needs. Meanwhile, photo documentation and customizable alerts enable users to get real-time updates about out-of-range chemical readings, maintenance issues, checklist completion and document submissions.
Starting at $625.
Be the Aquatics Superhero with HydroApps!
Product Description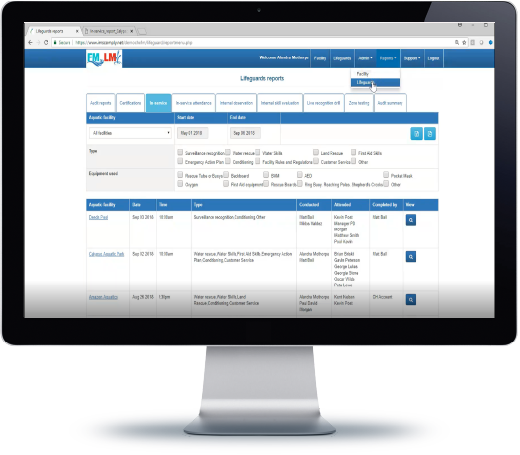 Facility Manager Features:
(Includes all Pool Test features and more.)
Record & Track Chemical Test Results
Each record is time & date stamped
Configure out-of-range chemical guidelines using Model Aquatic Health Codes or your local guidelines
Receive real-time alerts for out-of-range readings and automated dosing recommendations
Automatically calculate Water Balance (SI)
Easily access reporting
Use Checklists to Track Safety, Code Compliance, Maintenance Issues and More
Use pre-loaded MAHC-compliant checklists
Customize checklists for all areas of operations
Each entry is Time & Date Stamped for improved risk management and team accountability
Add Images or notes to Completed Tasks
Track maintenance issues, upload images, and receive real-time alerts for urgent issues
Robust reporting makes it easy to track checklist compliance, identify recurring issues, and make informed operational decisions
Easily Record Pool Closures for the Entire Facility or a Specific Body of Water
Track Re-opening Time
Pre-Loaded MAHC Guidelines for Body Fluid Contamination
Add Images and Documents to the Report
Easy-to-Interpret Reporting
Record Incidents, Illnesses & Accidents on a Dynamic Form
Capture Signatures
Include Images and Attach Documents
Sort Reports by Facility, Location, Type of Incident, Responders and More
Digitize Any Form Your Team Uses for Completion in HydroApps
Track and Record In-Service Topics and Lesson Plans
Capture Attendee Signatures
Report by Topic, Equipment and Attendee
Facility Manager – Designed by Pool Professionals for Pool Professionals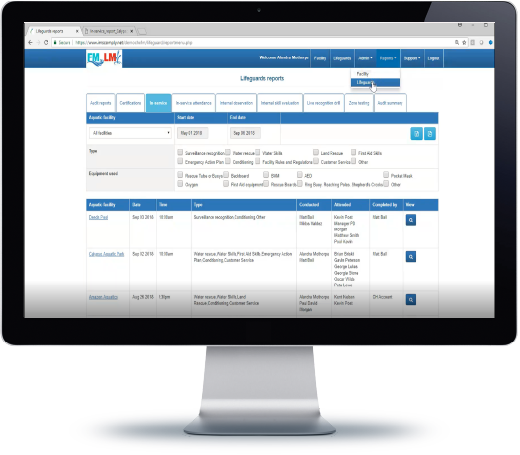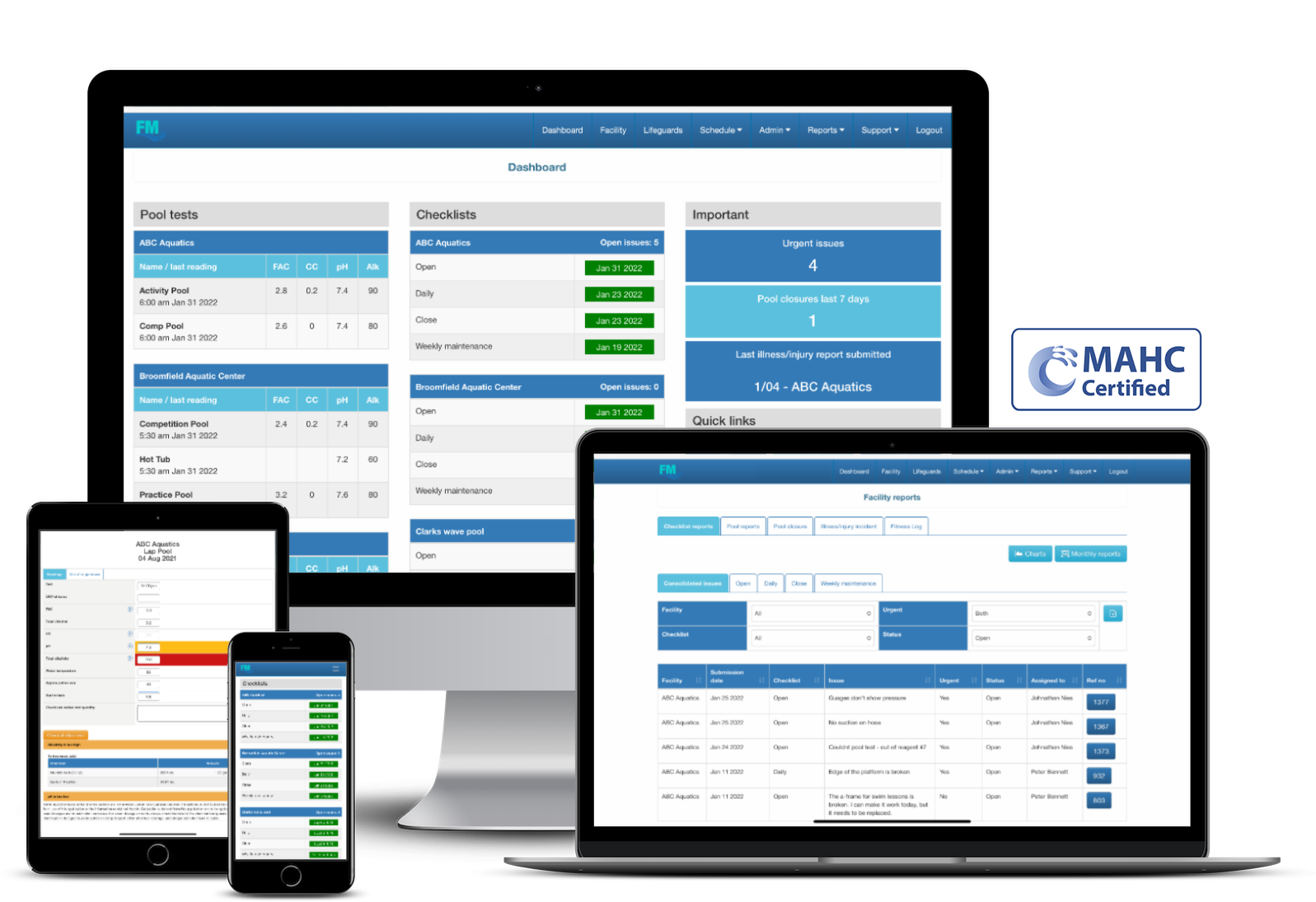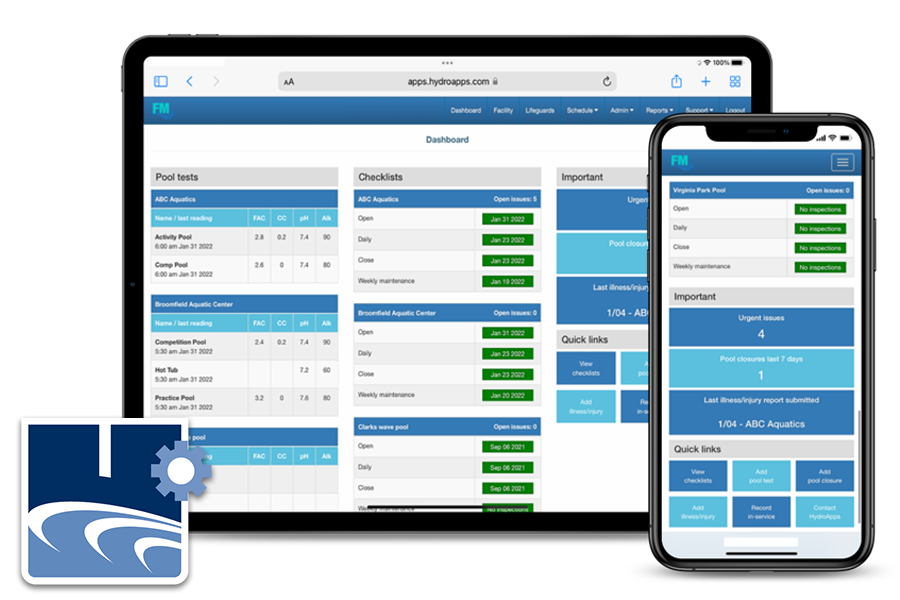 Facility Manager Features:
(Includes Pool Test)
Record & Track Chemical Test Results
Each record is time & date stamped
Configure out-of-range chemical guidelines using Model Aquatic Health Codes or your local guidelines
Receive real-time alerts for out-of-range readings and automated dosing recommendations
Automatically calculate Water Balance (SI)
Easily access reporting
Use Checklists to Track Safety, Code Compliance, Maintenance Issues and More
Use pre-loaded MAHC-compliant checklists
Customize checklists for all areas of operations
Each entry is Time & Date Stamped for improved risk management and team accountability
Add Images or notes to Completed Tasks
Track maintenance issues, upload images, and receive real-time alerts for urgent issues
Robust reporting makes it easy to track checklist compliance, identify recurring issues, and make informed operational decisions
Easily Record Pool Closures for the Entire Facility or a Specific Body of Water
Track Re-opening Time
Pre-Loaded MAHC Guidelines for Body Fluid Contamination
Add Images and Documents to the Report
Easy-to-Interpret Reporting
Record Incidents, Illnesses & Accidents on a Dynamic Form
Capture Signatures
Include Images and Attach Documents
Sort Reports by Facility, Location, Type of Incident, Responders and More
Digitize Any Form Your Team Uses for Completion in HydroApps
Track and Record In-Service Topics and Lesson Plans
Capture Attendee Signatures
Report by Topic, Equipment and Attendee
Facility Manager – Designed by Pool Professionals for Pool Professionals
---
FACILITY MANAGER
Frequently Asked Questions