At the 2022 National Recreation and Park Association Annual Conference last Fall, I had the opportunity to present a session with the infamous Kate Connell, Aquatics Manager with the City of Iowa City and founder of Equitable Aquatics. Kate and I have known each other for a while; our conversation around the specific needs of aquatics managers that might be different from the needs of other recreation managers got us thinking about how we could help non-aquatic leaders support the aquatic professionals they manage.  
 Aquatics Professionals Feel Pulled in Many Different Directions 
Recently, Kate presented on the Aquatics Managers and Directors Facebook group about how aquatics professionals feel their supervisors want them to spend their time and where they actually put their time.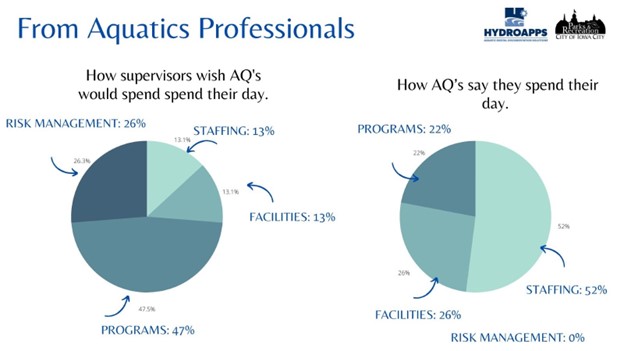 Kate asked aquatics professionals what they felt was the most important part of their job and what they saw as the best part of their job.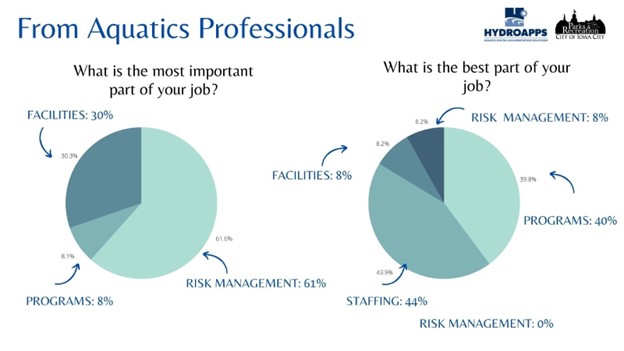 One of the things that became apparent early on is that aquatics professionals feel a lot of pull between what is expected AND between what they love and where they feel they need to focus. When you add that to the fact that the people who manage aquatic professionals typically do not understand what we do, it is easy to see how both being an aquatic professional and managing one if you don't have a lot of aquatic experience can be challenging.  
As we dug into many things that came up in conversation around the public-facing and internal realities of being an aquatics manager, it became apparent supporting an aquatics manager when you don't have a background in aquatics could become overwhelming.  
Strategies for Support
With that in mind, we developed an easy plan that any manager can use to help understand the requests of their aquatics manager and help them prioritize the request based on industry best practices, safety standards, and basic aquatic risk management principles.   
The first thing we recommend is that you start with a quick look into how you're currently handling conversations and requests with your aquatics manager. 
First, in what ways are you currently showing support for your aquatics manager? You may have weekly one-on-one meetings, check in via email, show up at seasonal orientation, uphold safety decisions, or simply stay out of their way!  

Does that support align with how your aquatics manager wants to be supported? Even if you're stepping out of your comfort zone to support your aquatics manager, take a few minutes in your next meeting to ask them how they want to be supported. Is a business check-in what they need, or do they need you to do a mental health check as the summer season nears? Do they need to invite you to activities, or are they excited if you show up with freezer pops to share with the team? And if they would prefer you stay out of the way, is there a deeper reason? 

Finally, consider what criteria you use to make decisions about aquatic needs. 
The last point is where the Six S's for Success comes into play. Using the following six criteria consistently will not only help you better understand the needs of your aquatics manager, it will also help your aquatic manager bring things to you in a way that helps clarify their needs, wants, and risk-management requirements. It also can help you evaluate the things that you ask of them.  
As you evaluate decisions, consider how the following key criteria are affected

Safety.

This should include guest and staff safety. 

Think about minimum staffing levels, EAP execution, and even the effects on staff. (If you've ever asked your team to open extra hours with limited staff because of a heat wave, you know what I mean!) 

Standard.

Aquatics managers have a variety of standards they live by Model Aquatic Health Code, local / state health codes, lifeguard certification standards, equipment manufacturer guidelines, and more. 

Service.

Think about guest service and how it is going to be impacted by the decisions you make. This can apply to everything from the lockers you install to creating toddler-only swim time with limited parts of the pool open. 

Stability.

When we talk about stability, we're talking about the stability of your business. That means making decisions that support your aquatics operations long-term, the ability to withstand a temporary disruption (like a chain of bad reviews on social media), a decrease in attendance or revenue, loss of key staff (including your aquatics manager) or the long-term health of your facility and equipment. 

Sustainability.

In addition to environmental sustainability, sustainability in your business is about creating long-term policies, operating procedures, capital improvement programs, and succession planning. 
 The great thing about the six S's is that they are universally applicable across almost any decision around your aquatics operations.  
Putting the Six S's into Practice
Let's see what it looks like in practice:  
Aquatics Manager Michael comes to you and tells you that his staffing levels are low. He is executing the recruitment and training plan he developed earlier in the Spring, but Memorial Day is only a week away, and he is about 25% short. He asks you if he can limit hours on opening weekend. 
You work together to evaluate the 6 S's:  
Safety is Michael's biggest concern: without the appropriate number of lifeguards, he's concerned that he won't be able to provide adequate pool coverage. He explains that there is a standard for helping determine adequate zone coverage in the Model Aquatic Health Code, and if attendance is even 70% of the last few years' opening weekends, he won't meet that standard. Typically, Michael overstaffs on opening weekend since his team is still learning their zones and EAPs. You suggest that he spend more time training, and he explains that he would have to choose between extra training and more time recruiting – and recruiting is part of a long-term solution to the low staffing issue and provides stability for the remainder of the season. Michael says he considered closing the water slide, play structure and lazy river (or rotating them being open) to help minimize staff needed, but last year people complained when features were closed. You discuss how this will be perceived from a customer service standpoint. Finally, you discuss the implications if something happens due to low staffing and decide that both the public perception and potential financial cost of a serious incident could potentially affect the long-term stability of your program. Together, you decide that limiting hours over the opening weekend would be the best option for Michael to run a single shift of lifeguards. You add hours on Thursday and Friday after school and choose the best times for the rest of the weekend based on last year's attendance. You work with marketing to update your social media channels, send press releases, and advertising in tandem with your upcoming lifeguard classes.  
Now that a decision has been made, you, as a supervisor, should be armed with what you need to support the decision with your board, council, and the community.   
Thinking Long Term
Aquatics managers require a lot of support, and they can get eyeballs deep in things that can feel overwhelming. They're juggling staffing shortages, spending time on the guard stand, trying to figure out how to provide more programming with less budget, and learning how to interact with a new, very different generation of lifeguards. Understanding that you have specific criteria that will help you better understand how to support them can make a big difference in how they approach you with requests and identify their needs.  
I encourage you this week to sit down with your aquatics manager and talk to them about some of the things covered here – from how they perceive the four focus areas identified (risk management, facilities, programming and staffing) and where they're spending their time to introducing the Six S's. You might be surprised by what you find out when you take a new look at aquatics operations with your aquatics professional.  
Interested in including the full presentation at your next conference or training event? Reach out to Kirsten at [email protected].