It's that time of year again when we're thinking about engaging our communities with our services and encouraging them to funnel their discretionary spending into the activities we provide and the experiences we create through recreation. So as we were planning out our conversations with you via our blog, the idea of Black Friday Sales naturally came up. Hence, Black Friday Deals was born!
Last year, I shared 8 Ideas for Black Friday Aquatics Deals along with some tips to make those "sales" successful. From offering a gift with every purchase and gift certificate options to creating packaged experiences of classes, sports, or activities, I believe that offering something special to our communities as part of their seasonal shopping is a great way to generate revenue and get people interested.
That being said, it's becoming clear that the way major retailers approach Black Friday shopping is changing. With Amazon's early Prime Day in October (y'all – I got the cutest Rothy's dupes for a steal #iykyk) and other retailers like Target offering early sales, the anticipation of getting the best deal on Black Friday is fading. Add to that many people's new aversion (or at least awareness) of huddling close together with other people and standing in line for hours just to get a deal on a 60" television, and it's easy to see why so many retailers are completely eliminating their Thanksgiving hours and only teasing Black Friday hours.
On October 4, REI announced that it was permanently closing all of its stores, call centers, and corporate offices on Black Friday and paying its team to spend time outside. Although REI started its #OptOutside campaign in 2015, it's been a yearly decision until now. REI CEO Eric Artz said in a statement, Opt Outside has always been about prioritizing the experience of our employees, choosing the benefits of time outside over a day of consumption and sales."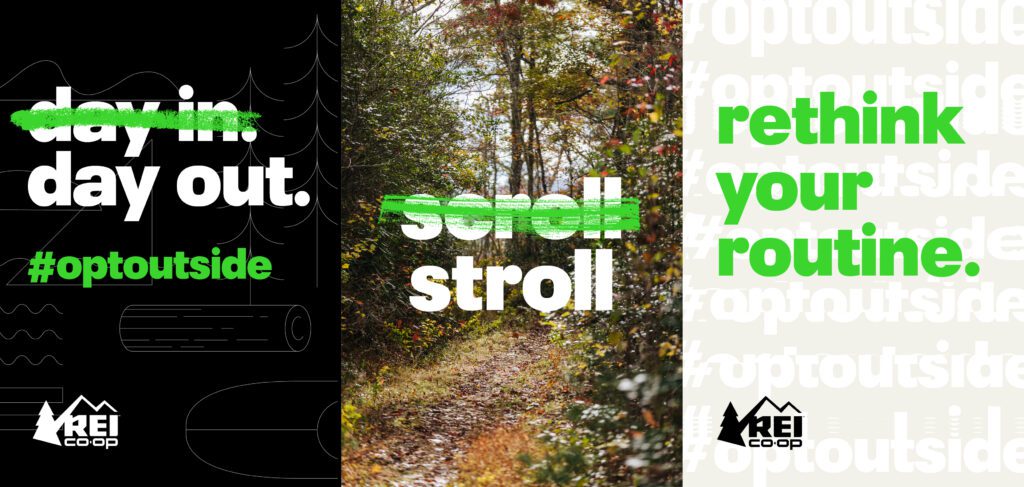 We all get to learn and evolve with the world around us, so here I am, a year after telling you how to capitalize on Black Friday sales and offering an additional perspective. While closing your facility is most likely not an option, I wanted to focus this year's Black Friday conversation around how we can prioritize activities and experiences in our facilities over (or at least in conjunction with) the things we offer for families to spend money on. And I'm certainly not suggesting that you ditch a holiday gift guide or get creative in your seasonal offers – finding fun and unique ways to engage your community with your center, programs, special events, and more is always a great idea. However, I suggest you consider your agency's mission and vision and consider these things in how you approach seasonal offers.
Putting Your Mission and Vision Into (Promotional) Action
Your Mission and Vision statements should already be a foundation for your decision-making. From customer service to programs offered, your Vision offers your organization a common goal and source of inspiration, while your Mission should give your more action-oriented terms that can be practically applied.
As you plan your Black Friday promotions and engaging activities (check out our ideas below!), use your Vision and Mission to ensure consistency. As you brainstorm, ask yourself which of your ideas aligns with and supports your Vision and Mission, and let those ideas rise to the top. If it sounds cool but doesn't align, take a step back and consider that this might not be your agency's best promotion or program.

Ideas for Low-Input, High-Impact Programs
We've all seen the annual Turkey Trot, and since it's the most popular race in America, maybe you've even participated. (My family is more of a "watch the Macy's Day Parade" than a "get up and run in the cold" family, but you do you!) The appeal here is pretty broad – it's something you can do with your family. Many races donate to charity causes, and exercising on a day when you typically consume at least 80 million calories makes perfect sense. So how can we use those same concepts to drive activities and promotions for our community?
At-Home Activities: So many of you did an amazing job during COVID of expanding your downloadable activities from your website, creating take-home craft boxes, or building packets of games for families to do at home. Dust off those skills and create a great Thanksgiving Weekend Family Activity!
Bring a Guest for Free: This is a great way to encourage your members to visit your facility and provides a way for families to spend time together that's not standing in line shopping!
Give-to-Get-In: Work with a local food pantry to do a weekend promotion offering free admission for 3 non-perishable food items, or set up a Giving Tree with your local CASA or women's shelter.
Dive-In Movie: Indoor pools are great for dive-in movies, and there are a ton of great winter movies that you could show to kick off the holiday season – no matter what holiday your community celebrates!
Turn Your Pool Into a Winter Wonderland: We saw so many great ideas for Pumpkin Floats, and Underwater Easter Egg Hunts have become a great event. Think about how you can turn your pool deck into a winter wonderland with snow-capped trees, snowmen in tropical shirts, and penguins hanging off your slide! (Willing to close the pool for an afternoon? Talk to your ice rink about borrowing their ice to create ice caps right in the pool!)
Wall of Thanks: Give your members and visitors a chance to write something about which they're thankful and post it on a wall in your facility.

Be Thankful For – and With – Your Team
Honoring our community and showing them that we appreciate their patronage is easy, and I encourage you to consider how you can honor your team. After all, just like us, they often spend their holidays and school breaks serving our community alongside us!
Celebrate Friendsgiving: Invite your team to participate in a potluck, or ask your leadership team to bring in the fixings for a chili dinner, baked potato bar, or other fun (and long-lasting) buffet.
Staff Appreciation: Earlier this year, we shared 11 Easy Staff Appreciation Ideas.

Think about how you can turn those – or other ideas – into a Thanksgiving-themed thank you.

Play Thanksgiving Bingo with your team! It's a fun way to get people talking and a great way for your team to get to know each other.
Set up a turkey handprint station and give your team time to get creative!
Be Thankful: Cut out a turkey for every team member and write a note about why you're thankful for them. (If you have a big team, work together with your leadership team). Post the turkeys on their lockers, and leave extras so that you can invite them to add their own thankful notes to their peers.
The Bottom Line
Now is a great time to capitalize on the spirit of giving – and consumerism – that is so prevalent this time of year. Consider how you can use that to build your business without losing sight of showing your thanks to your community and your team with creative ideas.