We've all seen the studies, and many of us have lived it in real life: teams who feel appreciated or recognized for their effort are more engaged, and more engaged teams make for happier facility users and program participants. But after a year of COVID closings, re-openings, new and ever-changing cleaning protocols, masking (or not), shortened hours, scheduling for free swim or lap lanes, more rescues than ever, and fewer qualified applicants, finding time to say "thanks" to your team has probably fallen pretty low on the list.
While we often use "appreciation" and "recognition" interchangeably, there are some subtle but significant differences in what they mean. Harvard Business Review has a great article about this, but the bottom line is that recognition is explicitly based on an individual or team's performance, while appreciation is based on a team member's inherent value. Finding ways to balance recognition and appreciation together so that your team feels rewarded when they win and knows that you see their care, dedication, and heart for their jobs can make your efforts meaningful.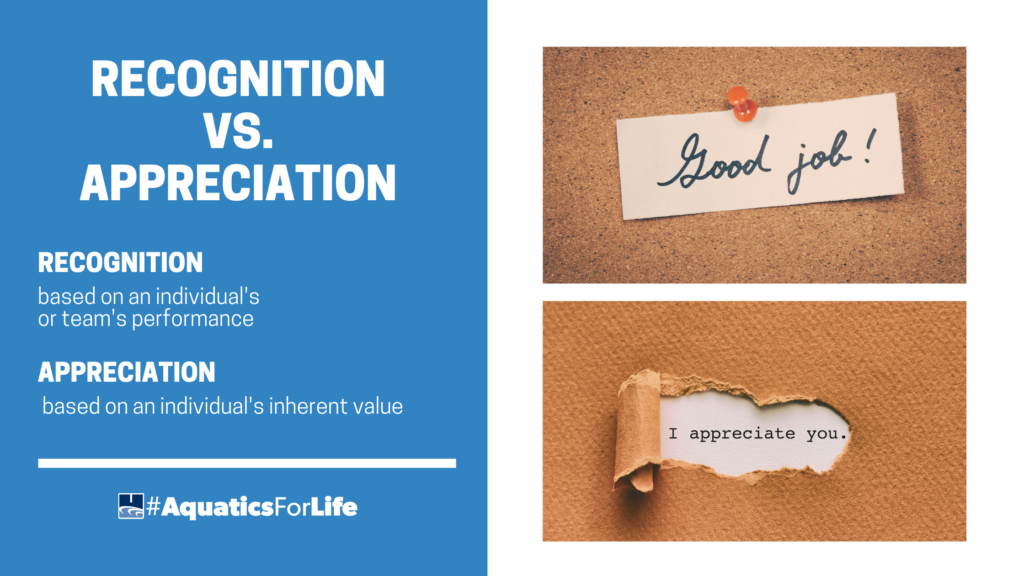 Appreciation and recognition don't have to be something big and time-consuming, but it's also more than just saying "Thanks! Great job today!" on the way out the door. True appreciation makes your team feel valued, builds trust in leadership, increases individual satisfaction, and improves overall culture. Meanwhile, 37% of survey respondents said that "more personal recognition would encourage them to produce better work more often." In a time when people have a lot of employment options, these are things that can make a difference in your recruiting effort!
11 Easy Recognition & Appreciation Ideas
Before I share my list, here's a little reminder: the best way to know how your team likes to be appreciated is by asking them. You may plan a big blowout and find out what they really wanted was a potluck after their Sunday shift!
1. Recognize Team Member (Work) Accomplishments. These types of recognition are pretty straightforward and are probably already in place and driven from the top levels of your organization. Examples include the length of service, personal accomplishments like making a save, or team accomplishments like winning an internal contest.
2. Recognize Team Member Performance. When someone on your team does something that executes a rescue, helps move your business forward (re-enrolling the most swim lesson students), or even goes above and beyond (works an extra shift, comes up with a new process, does something special for a guest or peer).
3. Implement an Employee of the Month program. Think about the things that make someone a great member of your team – from showing up for their shifts on time and attending in-service to providing outstanding customer service or showing up with a great attitude – and then think of an appropriate "award." Some great ideas I've seen include "Aquatics Director for the Day," preferred parking, Employee of the Month swag like tees, a trophy, or a golden rescue tube, or taking over your social media account for the day. Remember, the goal is to design the program to promote both the skills and behaviors you want to see in your team!
4. Give Seasonal/Annual Awards. This is a great way not just to focus on those skills and behaviors we just talked about, but you can also have a little fun! (Remember those Senior Superlatives in your high school yearbook or even the funny promo videos that MLB teams do where players share info about their teammates?) Some ideas include:
· It's 5 O'Clock Somewhere for the team member who always seems to get off early;
· The Guest Whisperer for the team member who can handle any guest situation;
· Consider it Done for the team member who is always ready to take on any task (Code Brown, anyone?);
· The Houdini Award for the team member who always seems to be missing during their shift;
· Duct Tape Award for the team member who can fix anything or any situation;
· Cleanest / Messiest Locker for. . .well. . .you can figure this one out!
5. Peer-to-Peer Recognition. This is a great way to allow your team to recognize each other for the great things they do. Make sure you have clear criteria for recognition – even if they have to list specifically what the other person did – so that it doesn't turn into a popularity contest! Call it Staff Shoutouts, Kindness Kudos, Cheers for Peers, Roses for Rock Star, or whatever theme makes sense for your facility.
6. Exercise Servant Leadership. Consider an end-of-season barbecue, a Sunday night dinner to kick off finals week, or a carwash featuring your department director. This is a great way to show your team that leadership appreciates what they do.
7. Partner with another department to do something fun. Camps versus Aquatics kickball games, department-wide non-holiday potluck (since we all get to work the best holidays so that our community can play), or even a golf tournament for your team are easy ways to tell your team that you appreciate what they do without spending a lot of money. And because I know you're all wondering how you can do that when your facility is open, ask facility leadership if you can close early on a typically slow night so that everyone can attend.
8. Partner with a local business to do something special. While you're working on approval for something special, think about reviewing your policy for community trade outs. Offer a private pool party or day passes to a local business in exchange for doing something for your team. Fun ideas include chair massages for a relaxing Massage Monday, private jump time at a local trampoline park, donuts and coffee from a local business, or a catered dinner.
9. Handwritten notes. This one seems simple, but a little note or card tucked in a locker or staff mailbox is a great way to tell your team you appreciate them. Make sure your messages are sincere, positive, personal, and specific. . .and maybe don't write in cursive since so much of our teams can only read in print!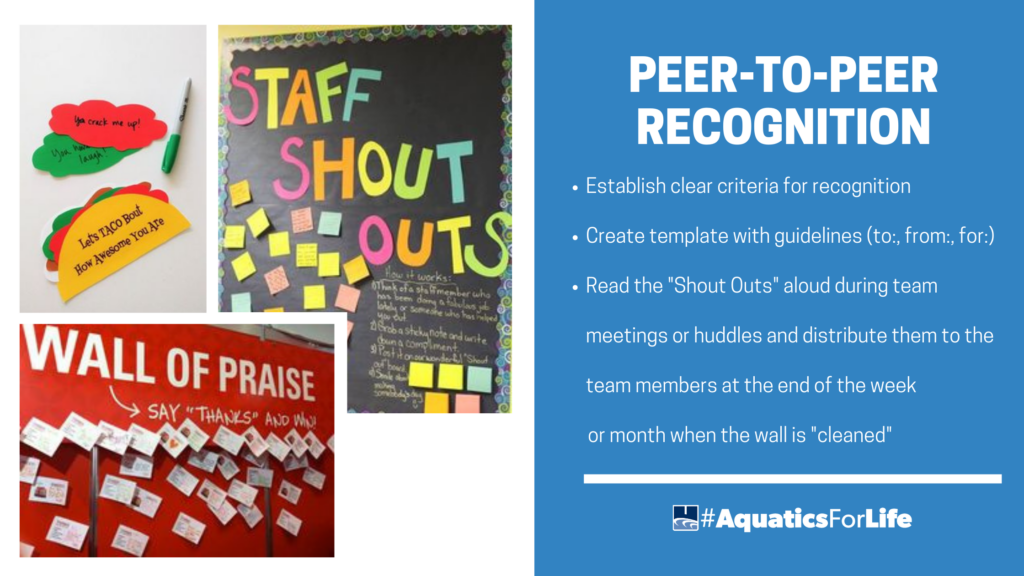 10. Tokens of appreciation are easy way to show appreciation without breaking the bank.
· Think about easy things like bags of candy, office donuts, or a good pun (because who doesn't love a pun?). Personalize with a little note to share your specific appreciation. You can get some fun ideas on my Team Recognition board on Pinterest!
· Another quick and easy idea that was shared recently at the Texas Public Pool Council Annual Conference was stickers – you the kind I'm talking about that the kids stick all over their water bottles, laptops and notebooks. Several people mentioned that they used Sticker Mule – and apparently if you sign up for their newsletter, you get regular discounts!
· And don't forget about cleaning out your closets (and other closets in your department). Vintage tees are in right now, and getting a 4th of July event tee from 1994 can become a prized possession as a reward for a job well done!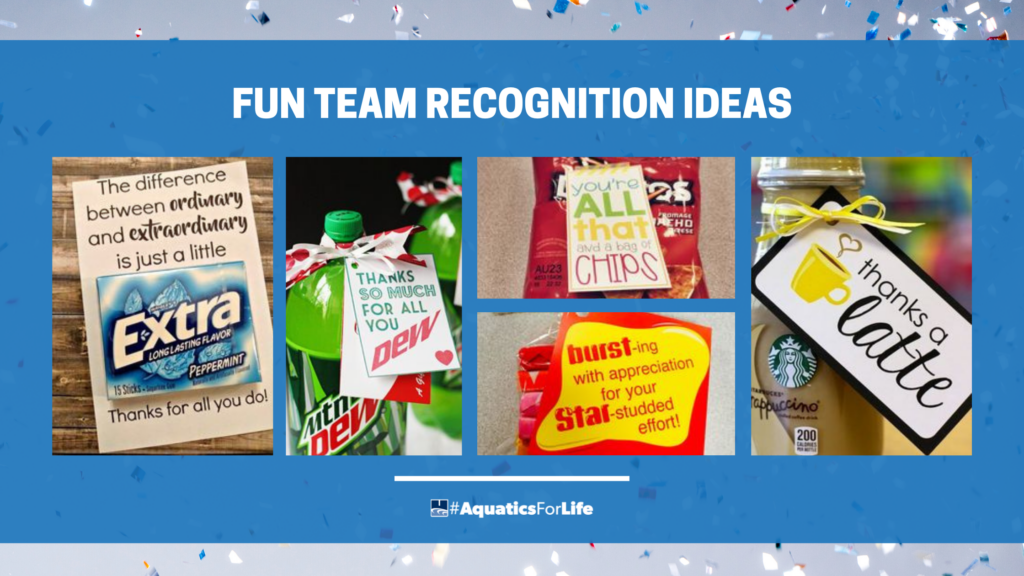 11. Staff Appreciation Week. Think about an entire week of goodies and appreciation. Chalk your sidewalk with notes of gratitude, decorate your staff area, publish your daily themes, and even let your regular guests and members know what you're doing. Do something special every day: a popcorn bar, sub sandwiches, donuts, a dessert bar, or anything fun! Make sure that you plan things that can cross shifts and happen every day of the week so that you don't miss any of your team!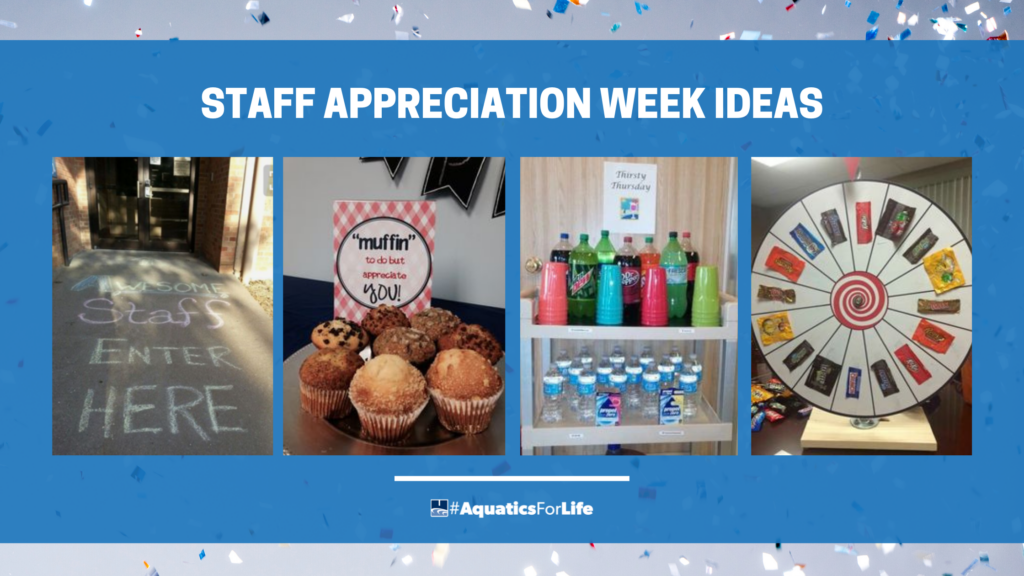 Here's my final tip: without tying recognition to departmental performance standards, you can end up just recognizing employees for doing their jobs. And – let's be honest – right now, just having our team show up for their shifts feels like it's worth recognizing! And that's okay if that's your starting point; just be sure that you are specific in why you recognize individuals and your team so that they know those things are important to you and your business.