As my daughter – whose birthday typically falls the week of Thanksgiving – got a little older, she discovered the joys of Black Friday shopping, and it soon became our birthday weekend tradition.  A friend would spend the night, we would grab a Thanksgiving-day newspaper and browse the ads to plan our route, and we'd hit the stores early to get the best deals and have fun.  Of course, 2020 – and getting quarantined on her 17th birthday – kind of threw a wrench in those plans, so our Black Friday shopping spree turned into browsing and purchasing online. The experience wasn't quite the same, but shopping from the warmth of our living room had its own appeal!
Black Friday has become a staple for many large retailers, with sales starting well in advance of the day, and that often dilutes the excitement and expectations around these holiday sales. For Recreation agencies, though, Black Friday isn't typically a day that is used to drive revenue.  So why should you consider offering a Black Friday deal?
Retailers know that Black Friday (or even Small Business Saturday or Cyber Monday) deals are a great way to drive year-end revenue. The anticipation created from these sales often creates sharable content to expand a retailer's reach in the community.  It's easy to see how these benefits apply to the business of Parks & Recreation. When you factor in your program retention and re-enrollment rate, high-volume sales can translate to a long-term increase in participation and revenue.
Retailer beware!
Some retailers find that their Black Friday deals cost them money when they provide excessive or long-running discounts.  But those same retailers often say Black Friday is still a success because it brings in so many new customers that the long-term effect is worth it.  The bottom line is that you have to find a deal that promotes purchasing without eroding your bottom line!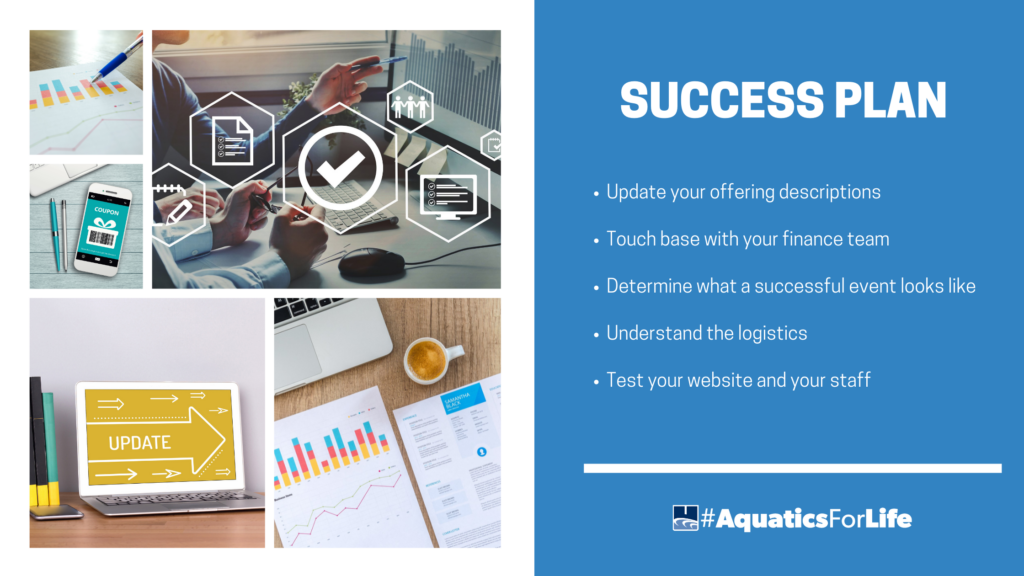 Plan today for success tomorrow. . . and on Black Friday!
Having a solid plan in place before you even finalize your offerings can truly set you up for success.  A few simple steps today can make things easier for you – and your buyers – on the big day.
Update your offering descriptions and ensure that all of the details from description to schedules are accurate and up-to-date.
Touch base with your Finance team. As you're thinking about what you might offer, consider the implications for your Finance team. If you record revenue when it's received versus accruing it and applying it when it's actually used, if your fiscal year is about to end, or if you're bundling purchases from different revenue lines, making sure they understand what Black Friday deal transactions look like well before the event can prevent problems (and frustration or hurt feelings) in the future!
Determine what a successful event looks like. Just like a program or event, it's essential to understand how you'll evaluate your Black Friday sale. Whether it's the number of offers redeemed, new program enrollments, or even social media shares, know ahead of time what's important to you and your leadership!
Understand the logistics. Know if you can create coupon codes or if you'll need to apply discounts manually. Make sure your team understands how to ring up gift certificates and how they'll be applied when they're redeemed. Leave clear instructions for your team about when promotions start and end.
Test your website and/or staff up. If you're planning to drive volume to your website for purchases, make sure your site is ready. Don't be afraid to reach out to your POS provider to ask what plans they have in place to ensure their online system is prepared for increased volume and if they will have customer support available in case something breaks. If you're planning to drive revenue through on-site purchases at your office or center, start working now to find the right people to work on the big day!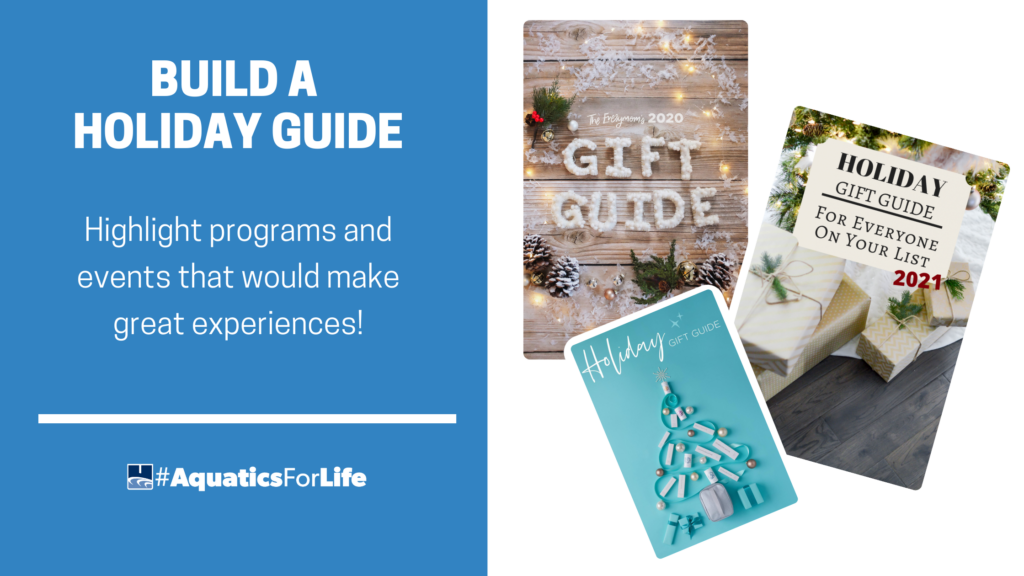 Start by building a Holiday Gift Guide
Do you remember sitting down with the Thanksgiving Day paper and combing through the ads or circling your wish list items in the Toys 'R Us catalog? Think about creating your own Holiday Gift Guide like these with other divisions – and considering that almost 90% of parents report that their kids influence their buying decisions, make sure it appeals to the entire family! Remember: this isn't a program guide!  It's a way to highlight programs and events that would make great experiences to give as a holiday gift.  Check out Canva's easy-to-use templates for Gift Guides here!
Use visuals and graphics, pair events and programs together, and highlight your holiday offerings.
Consider a virtual guide with individual posts that you can share on your social media pages.
Knowing that 59% of female and 48% of male buyers start shopping before Black Friday, get your guide out early!
8 Ideas for Black Friday Deals
And now. . .what you've all been waiting for!
Offer a Free Gift with Purchase: Whether it's a free pair of goggles, something from your Pro Shop, or even a ticket to an upcoming event, provide an added value with the purchase.
Create a Mystery Offer: We've all received the "mystery offer" email, and it's a great tool that marketers love to use because it can increase email engagement by almost 600%! If you have an email personalization platform like Liveclicker, it's an easy thing to do, but that may be out of reach for most Parks & Recreation professionals.  Have no fear, friends – you can make your own scratch-off coupons to hand out to program participants, center visitors, and at community events! While you can purchase custom scratch-off tickets, a more economical way is to create and print your own coupons (think business-card size) and add scratch-off sticker labels that buyers can scratch to reveal their unique discount.
Donate to a charitable organization – you! Patagonia broke the internet – and their sales projection – with their recent "Benefit the Planet" Black Friday campaign proving that people are willing to purchase from a retailer (even for the first time) if it benefits something about which they're passionate. Take advantage of your community's passion for helping one another by offering a portion of sales to your scholarship fund. Be sure to report out to your community after the promotion ends.
Gift Certificates are an excellent way for gift-givers to allow receivers to choose how to spend.
Partner with another local business. Ask a local sporting goods store if you can hand out a coupon for your organization with each purchase, sell gift certificates for Valentine's Dance tickets and include a special offer to a local salon, or give a gift certificate for Triathalon Training for Dummies from a local book store when they purchase a training class. Bottom line: find retailers with the same demographic as you, and reach out to extend offers to both of your customers!
Offer a unique experience. Way back in 2016, reports started popping up that Millennials (you know – the parents of many kids in your classes) were into giving experiences instead of material things. Think of ways to offer unique experiences at your facilities – whether it's private cabanas, sunrise yoga on the pool deck, or a VIP section with catered food at your next Dive-In Movie, think of how you can make memories for buyers.
Buy More-Save More offers. The goal here is to increase AOV or average order value. We see our favorite retailers do this all the time, and it's a great way to drive revenue for a variety of programs.
Buy Now-Save Later offers. You know what Kohl's cash is, right? This is the same concept: make a purchase now and get a coupon for a dollar amount to use on a future purchase. You could even do "Buy One Session of Swim Lessons and Get $10 Off Every Spring Session": create a coupon for each spring session that can only be redeemed for those sessions! This is an incredibly effective tool if you recognize cash when it's received and your budget year is about to end.
BONUS: Offer bundle deals! Imagine Grandma and Grandpa gifting a child with an entire year of swim lessons and a pool party at the end of the summer, or a favorite aunt gifting an entire year of fun that includes a session of art class, Spring soccer, Summer swim lessons, tickets to the Fall Festival, admission to ice skating, and a day of School's Out camp! Whether you bundle deals within your division or partner with other divisions in your agency, the possibilities are endless.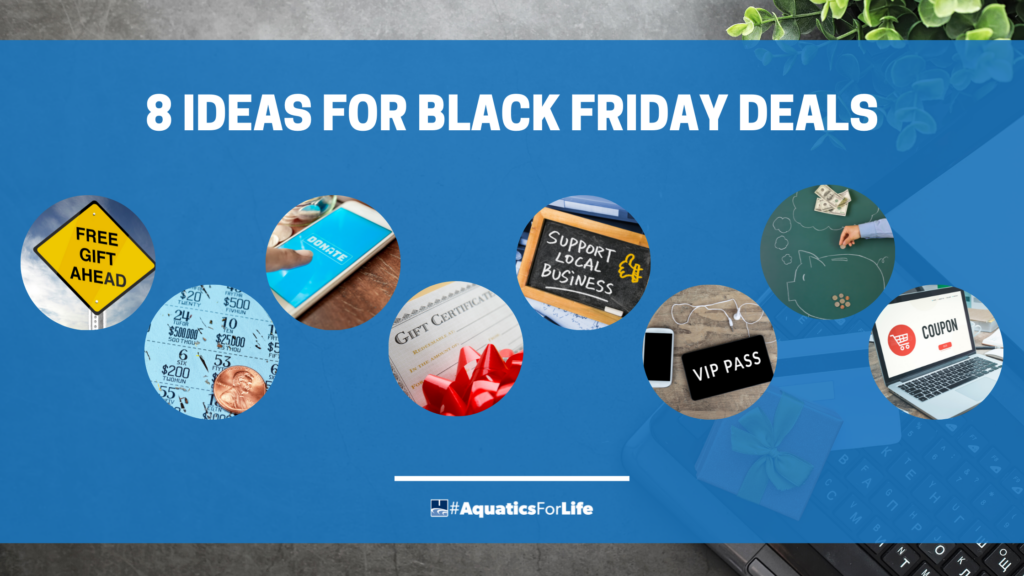 Tips & Tricks to Make Your Day Successful
You've worked out the details and put together your offer.  Before the big day, here are some other tips & tricks to make your day successful:
Use your email list! Consider what email headlines can grab attention when people are already being bombarded with marketing emails. Check out 100 Black Friday and Cyber Monday marketing email subject lines from some of your favorite retailers.
Go live on social media to reveal your Black Friday deal. Even Amazon goes live to promote their Cyber Monday specials, and it's a great way to create sharable interactive content!
Don't forget to use trending Black Friday hashtags to generate interest. Check out best-hashtags.com for some great ideas.
Partner with a local social media influencer. Local mom's groups, popular TikTokers, or even a local media personality are great partners to share your deals. Reach out now and get the partnership started!
As we continue to build our strengths in treating our businesses like. . .well, businesses, don't miss out on a great opportunity to take advantage of the ninety-bajillion dollar Black Friday buying spree.  (Okay, I made that statistic up, but you know what I mean!)
Good luck, and I'd love to hear all about your successes!