Throughout the year, there will be multiple times when school is out – whether it is on the school calendar or not – and one of the first ideas that come to a parent's head to get energy out seems to be the pool! As a pool operator, I found that having bins on hand that have a days' worth of activities that are prepared and ready to go was the solution to keep kids, parents, and my team happy. I kept three to four activity boxes prepped and prepared so that any team member could grab a container and have everything they would need to be successful for the day's activities.
Let's chat about possible ideas for activity boxes!
These bins can have any theme you can imagine! Popular themes include; pirates, animals, sports, holidays, and adventures. You can make any idea you have into an entire container full of games and activities for the day! Do you love your local baseball team? Do a baseball theme and use their mascot as inspiration. Did your local zoo get a new exhibit? Find inspiration in that animal to create games using its behaviors and sounds. The possibilities are endless!
Some things to keep in mind while you put together your activity box:
Make sure to plan activities for all age groups. Simple items like coloring sheets can appeal to a wide range of ages and are simple to create and plan for.
Be aware of your space. You not only have a pool to work with but the pool deck! You may also have a concessions area or an area outside of the pool deck available to be used.
Plan to use the items you keep in your bins for multiple uses. Plan all activities using similar supplies to keep costs down.
Know your timeline. Is your pool open 4, 8, or 24 hours for family time? Do you only offer programming during a portion of your family swim time?
How much storage space is available at your facility? I had a corner of a storage closet that was dedicated to my special event days, but not everyone has that luxury! Consider storage locations that are not only convenient but practical as well.
Laminate and label! Laminate your directions so that they can be used multiple times. Label your bins so that themes are easily identifiable.
Know what items are kept available on your pool deck regularly. Pool noodles, pool weights, kickboards, diving rings, etc., items readily available from swimming lessons or aqua aerobics, will come in handy and keep costs down.
Now it is time to get to planning! Although there are many things to keep in mind, keep planning as easy as possible. Remember, you want to keep it simple enough for any of your team to be able to grab one bin and have their entire program of events ready.
Here is an example of a Family Game Day bin that would be prepared and ready:
Items in the activity box:
Coloring Sheets – themed with board games
Poster Board
Construction Paper
Stickers
Glue
Crayons/Markers/Colored Pencils
Oversized Checkers
Oversized Checkerboard
Inflatable dice (here is an example)
Beach Balls
Large Laminated Numbers 1-6
Rafts
Ball pit balls
PVC pipe/broomsticks/rulers
Prizes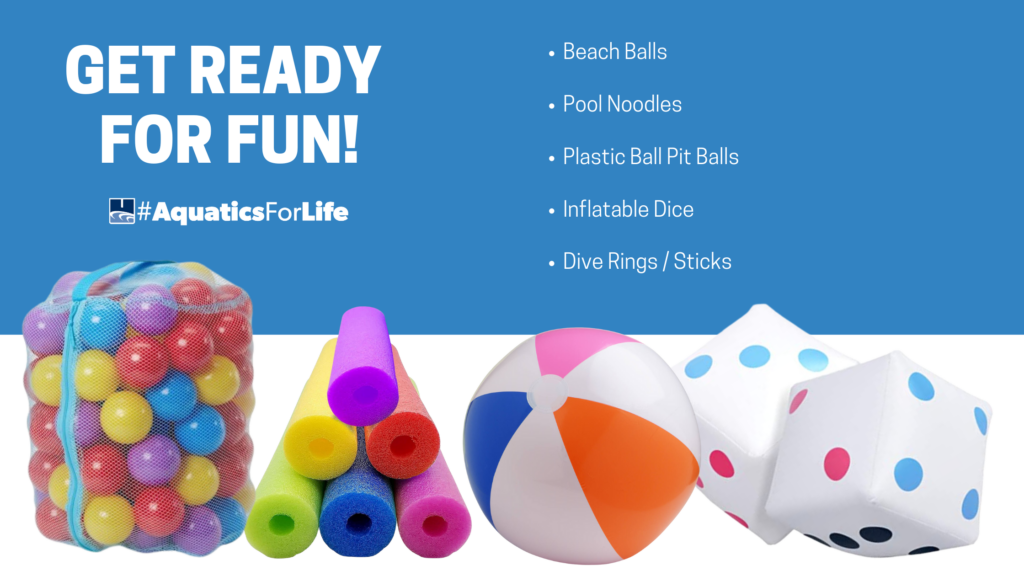 Here are some of the activities you can organize with this box:
Coloring Pages can be left out with crayons, markers, colored pencils, etc., to be completed by customers throughout the day. I typically left these out in the concessions area with instructions on how to hang the completed coloring sheets in the guard room windows.
DIY Board Game – place poster board, drawing/coloring instruments, stickers, glue, construction paper, and anything else you can give participants to create their own board game. My team leader would instruct participants to create their own board game, including rules and game pieces! Give everyone a time limit, then have them present their games. You can display games for gameplay on the pool deck or in your facility's lobby. You can even get your lifeguard team involved to create a game or two as well!
Place any oversized (or regular sized) board games around the pool. Giant checkers, Connect Four, or chess are nice to have on hand. This game can be played at any time and adds a little bit of decoration to your pool party day!
Grab your inflatable dice and laminated numbers. Depending on how many swimmers are in your pool, choose how many numbers you would like to use. Place numbers around the pool so that they are easily visible for your swimmers (Be aware of swimmers' skills and ages! You may need to split this game into two age groups!) Begin playing music. Allow swimmers to use noodles, kickboards, or other swim aids to swim from number to number while music plays. When the music stops, have the swimmers swim to the closest number - this is similar to musical chairs. Roll your giant dice; the number or numbers rolled are out of the game. Continue the game until there is just one winner!
Get out the beach balls and play a volleyball type of game. Have your lifeguard team in the water helping kids keep the beach balls up in the air! This works well with multiple team members in the water, playing with the kids to keep the game going and the participants engaged. It is a super simple concept, but lots of fun!
As posted in a previous blog, Hungry Hippos is always a fun time! You will need one of each of the following for each hippo: a noodle, a full-size raft (kind of like this one), and teams of two. The amount of hippos that play at a time is up to you! You will also need a bunch of ball pit balls as the "marbles" for the hippos to "eat". This game is quite a bit more challenging than it looks.  You will need teams of two – this is a good chance to get parents involved!  Each team will choose one person to lay on the raft and the other person to "guide" the raft.  Once the game begins and the plastic balls are dumped into the pool, the person laying on the raft will try to gather as many plastic balls into the looped pool noodle as possible while his/her partner steers from their feet!
Grab your pool noodles, PVC pipe, and beach balls (or ball pit balls). Connect your noodles by placing the PVC pipe inside the noodles to make noodles longer but still float. Place the noodles in a tic tac toe formation. Have a staff member in charge of each board and have kids throw a ball into the tic tac toe game board. Follow the typical game rules with multiple floating game boards in the water.
Don't forget about simple games - games such as red light green light, noodle races, relay races, etc. will keep your swimmers busy in between themed games.
In conclusion, these are just a handful of ideas to complete with your Family Game Day activity box. Meet with your team and plan a few activity boxes to keep ready for the next time you need some quick programming options! Each activity box brought on a different fun-filled day when allowing my team to take charge and get creative.
Above all, the most important thing to remember as these theme days arise is to have an extra dose of fun while maintaining safety. On days that you expect high attendance, be sure to staff additional staff for extra vigilance and for activity logistics and organization.