Love it or hate it, your schedule is about to fill with interviews. If you're lucky, you'll have more interviews than open positions, and you'll be off the stand enough to actually focus on these interviews. Many of you, though, are looking daily at your tasks and responsibilities and trying to figure out how to get time back in your day. Add in that staffing shortages don't look like they'll be resolved any time soon, and it's easy to fall into the trap of making job offers without having a real conversation with your applicants.
As you start hiring for Summer 2022 or beefing up your existing team, a great way to talk to a maximum number of applicants in a minimum amount of time is to utilize group interviews. I know, I know – changing up your tried-and-true interview process when you're already overwhelmed feels daunting, but if you spend a little time now preparing, you can save yourself a lot of time later and still work your way through the interview process. And even if your agency requires specific interview questions to be asked, your group interview can cover all the bases.
Why Group Interviews?
Ultimately, group interviews save time. My leadership team and I hosted seasonal hiring events to fill 100+ positions and were able to put 60-80 candidates through the interview process in only a couple of hours. Whether you do something similar or even do a three-on-one small group, or invite 8-12 prospective candidates in and break them into groups, having a solid plan in place can save a ton of time.
Group interviews are a great way to see how candidates interact with others. Not every person on your team needs to be an extrovert, and you need a nice mix of leaders and followers who know how to use their voice (even if it's just to answer your interview questions).
Group interviews are a great way for candidates to show their skills. Whether you just completed a certification class or you have candidates coming in with certifications issued by instructors outside your agency, adding a skills test lets you know if the candidate is rescue-ready!
Finally, group interviews are a great way to place candidates. I used to say that this was a great way to "narrow down" candidates, but with a significant labor shortage, the truth is that it's hard to turn anyone away. That being said, someone who can barely speak or look you in the eye or someone who struggles through a swim or skills test might be a better fit in a different position.
Preparation is Key!
Just like any program you offer, preparation is paramount to success. Treat your group interviews the exact same way for the best results.
Decide when and where you'll host your interviews. Think about how many you'll invite and what type of area will work best for what you're doing. Offer times that make sense for your target candidate (i.e. after school hours or on weekends). Find a space that allows you to minimize distractions, and make sure that you can actually hear one another when you talk (this is a personal lesson learned!).
Think about the format of your interview. Other than high-volume hiring, what key things do you want to take from your interviews?

I had a 5-7 minute PowerPoint with a video about organizational culture that I used to kick off group interviews.
If you want to include a shift to skills tests, make sure you plan an appropriate time to move from dry to wet skills.
Know how long you anticipate your interview to last.
Think about how you'll conduct your interviews. You could create interview stages – pass the first stage to get to the skills test, pass the skills test to get a brief 1:1 with the Director, etc. You could have a single interviewer ask all of the questions, or you could have interviewees rotate to different interviewers so that more people can evaluate them.

Based on your format, think about how many candidates you can accommodate. If you're a one-person show, maybe 8-10 is the most you can handle at one time. If you are interviewing Head Guards, perhaps you want a smaller group. If you have other leaders to act as interviewers, how many total can you invite?
Prepare your interview questions. Always, always, always make sure that you follow any guidelines regarding questions from your HR team, and even invite them in to help you set up your questions if that makes sense. Think about how your bank of questions works – will you ask everyone the same set of questions, or will you ask similar questions? Have you included questions about non-technical but still essential skills like being a team player, leadership, and more?
Train your interview team. Whether you tackle it alone, invite seasonal team leaders, or use other full-time members of your team, make sure you're all on the same page about how you'll ask questions, how to handle organic discussion within the interview group, and even how you'll track or score candidates. I even suggest practicing a time or two together so that you're confident in the process!
Communicate with candidates! Invite them to attend (I highly suggest using the free version of Sign-Up Genius if your POS doesn't have the option to add free group classes). Once they've signed up, send detailed information to your candidates: when, where, how long, how to dress, and what to bring are great things to include – and don't forget to give them a heads up that this is a group interview!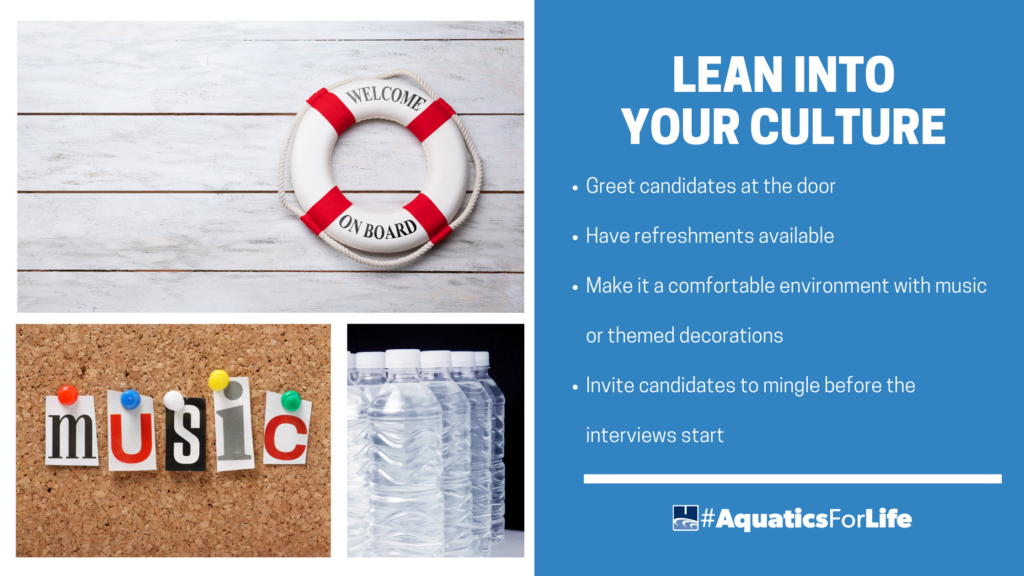 Conducting Interviews
Again, treating your group interviews like a program you would offer or a meeting you would conduct is an easy approach to make the event manageable.
Lean into your culture. Set an example of your expectations by treating your candidates the exact way you'd want them to treat a facility guest if they get hired – greet them at the door, have water or snacks available, have music playing to match your energy, and invite interviewers to mingle before the interviews start.
Have interviewees check-in, and consider having a hand-out ready for them. It might include the agenda, organizational contact information, and next steps after the event. Give each candidate their own rubric or "evaluation" that they can carry from station to station if appropriate.
Have the interviewers introduce themselves and share your agenda with the group before you start.
Break into groups and conduct your interviews – structured questions, group discussion, and skills testing can commence!
Close your interview out just like you would close an event – let candidates know what to expect next, and make sure you thank them all for coming!
Follow Up & Close it Out!
Please don't be "that guy" who never responds to someone after an interview! Whether you choose to move them forward or not, send a quick note to everyone who attended. (Pro tip: your HR department can probably help you with a form letter, or your applicant management system may already have pre-populated templates you can use!)
For those that you're moving on, send clear instructions on the next step – whether that's scheduling a 1:1 interview or simply making a final offer!
And don't forget to debrief with your team (or write your own notes). What worked well, what could have gone better, and what will change up next time?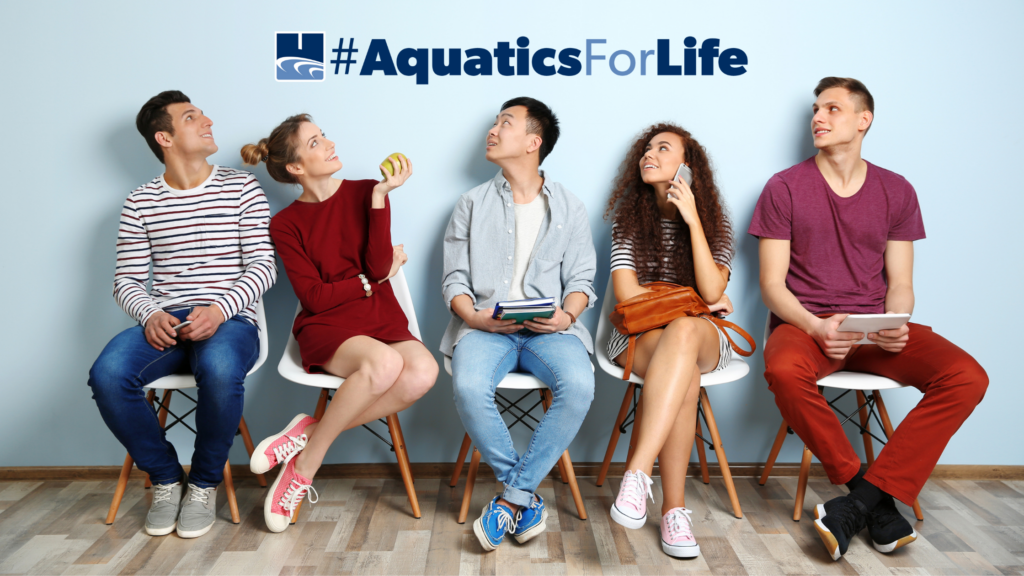 Closing Thoughts
I love group interviews for seasonal positions, but be careful! Group interviews can sometimes give too much weight to an individual's personality (extroverts shine while introverts may get lost in the mix). And even though we want to view teamwork skills, remember that teams don't become successful in a single day – it takes time and a mix of people in different roles.
Overall, though, those warnings pale in comparison to the benefits of a well-planned, well-executed group interview. They are efficient, exciting, and fun for everyone, and they can set the stage for the culture that you are growing in your organization!